CADILLAC CÔTES DE BORDEAUX 2016 BY CHÂTEAU PAILLET-QUANCARD
Yes, Bordeaux is vast, and yes, we've shown time and time again how much incredible value is lurking around every corner. That doesn't make Cadillac Côtes de Bordeaux 2016, at under $20, any less exceptional. WineOnline is all about value wine wherever it may come from.
The area downriver from Saint-Emilion on the Right Bank unites four regions: Côtes de Blaye, Côtes de Castillon, Côtes de Francs, and Côtes de Cadillac. Some Chateaux here are blessed with the same powerful blend of clay and limestone that birth Pavie, Figeac, and Cheval-Blanc further inland. One such Château is Paillet-Quancard.
What makes the 2016 vintage so special is the quality across the Bordeaux hierarchy. Having tasted many 2016 wines, what comes to mind is harmony and balance. The reds are remarkably polished and sensual.
We tasted Cadillac Côtes De Bordeaux at the "Wine Paris" fair last year. When we heard the price, we knew we had to get our hands on some.  This sleek and sophisticated 2016 has found its sweet spot in our portfolio, drinking deliciously right now!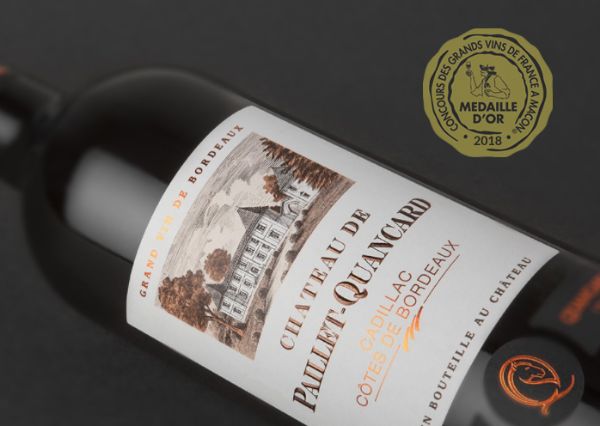 WHAT THE CRITICS SAY
90 Points / Editor's Choice
Roger Voss, Wine Enthusiast, May 2019
Gold Medal
Concours National des Vins de Mâcon, 2018
CADILLAC CÔTES DE BORDEAUX 2016: CHARACTERISTICS
BODY / STYLE / OAK / Medium-bodied / earthy, fruity, warm, spicy / oaked
SWEETNESS / Extra Dry
CELLARING / Drink now or cellar
BEST PAIRINGS / Cured Meat, Red Meat, Soft Cheese, Veal roasted, White Meat
TASTING NOTE / "With 12 months oak aging, this 80% Merlot wine is full of dark fruits and rich tannins. Its structure and smoky wood and spice flavors point to a wine with medium-term potential. Drink from 2020."
A LITTLE HISTORY ABOUT THE PRODUCER: CHATEAU DE PAILLET-QUANCARD
Dating back to the 16th century, this Château owes its name to the neighbouring village of Paillet. The symbiosis is complete between a vineyard and its birthplace, giving extra feeling to a wine that remains elegant, subtle and refined throughout the years and always lives up to expectations.
This very old vineyard was bought in the 18th century by Squire d'Alphonse, canon of the church of Bordeaux. It was subsequently handed down to Adélaïde de Bacalan, to the knight J.-B. d'Alphonse, Counsellor with the Bordeaux Parliament, and to the Countess of Vassan. In the 19th century, it was one of the properties of the Fery-d'Esclands family. It was purchased by Marcel and Christian Quancard in 1970.
This is an unbeatable value for a lovely expression of a Merlot dominant Bordeaux blend.
WINEONLINE.CA
Since 2004, WineOnline.ca has been fulfilling its goal to make quality wines more accessible to wine lovers. We take great pride in the quality of our products and services, and ultimately, satisfying our customers at every available opportunity.
WineOnline.ca provides its clients with the finest wines from the wine world's most talented producers at the best value.