BARBERA D'ASTI DOCG BY PODERI DEI BRICCHI ASTIGIANI 2019
If you love the diversity of Italian wine as much as we do, Barbera D'asti DOCG By Poderi Dei Bricchi Astigiani 2019 jumps right off the wine list. This is an incredible value-for-dollar Piedmont find under $19. Barbera is a 'pet' variety of Barolo-makers—one of the wines they're most likely to reach for on a day-to-day basis.
No one does "affordable rarities" quite like Italy, and within Italy, the Piedmont region is home to a staggering array of hyper-local grapes. Barbera is one such variety, found in the hills of Piedmont and practically nowhere else.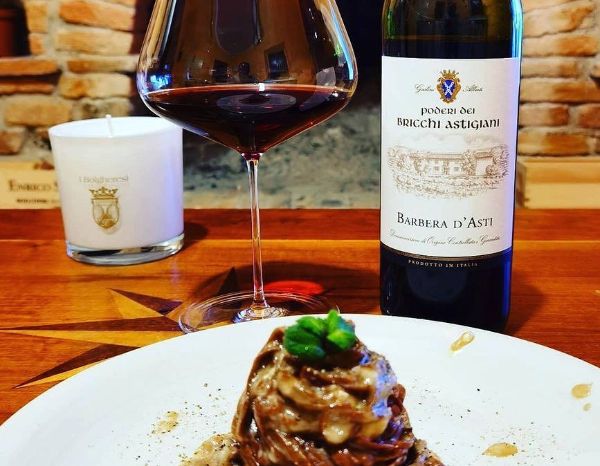 BARBERA D'ASTI DOCG 2019: CHARACTERISTICS
BODY / STYLE / OAK / Medium-bodied / warm and spicy, floral, fruity / unoaked
SWEETNESS / Extra Dry
CELLARING / Drink now
BEST PAIRINGS / Breads, Ham, Hard Cheese, Red Meat, Vegetables
TASTING NOTE / "The wine is characterized by an intense, ruby red colour. The aroma has notes of flowers and red fruit (cherry, plum), with a finish of almonds and spices. The flavour is smooth, warm and intense."
DELIVERY / Complimentary
A LITTLE HISTORY
Poderi dei Bricchi Astigiani is a winery which might be considered of modest dimensions when compared to its sister estate, the Tuscan Badia di Morrona. In truth, however, it consists of 50 acres (20 hectares) of vineyards situated in one of the finest sub-zones of the province of Asti in Piedmont.
Purchased at the end of the 1990's, the Poderi dei Bricchi Astigiani estate represents the family's challenge to Piedmont and its wines.
After succeeding in making the Badia di Morrona, acquired in 1939, an estate of indisputable level, they decided to put themselves to the test in the second of Italy's most famous viticultural regions, famous all over the world as well.
WINEONLINE.CA
WineOnline.ca opened its doors in May 2004 with a vision of providing quality wines to wine lovers with easier access. We take great pride in the quality of our products and services, and ultimately, satisfying our customers at every available opportunity.
We provide the best wines from the world's greatest producers and wine regions at the best value.