A SUPER-VALUE SUPER-TUSCAN
TANETO IGT TOSCANA 2019 BY BADIA DI MORRONA
Taneto IGT Toscana 2019 by Badia Di Morrona – a great Super Tuscan! When we think of Italy these are just a few of the things that come to mind. Picturesque Tuscan hilltop villages, stunning Renaissance villas, crusty bread dripping in fresh pressed olive oil and of course homemade pasta. And what wine is more synonymous or quintessentially Italian? Super Tuscans of course.
This fresh and vibrant 2019 perfectly captures what Super-Tuscans are supposed to be—and at the right price, too. "Over-delivering" doesn't begin to cover it! And best of all… It's drinking perfectly and will do so for the next handful of years.
As respected as Italian wine has become in Canada, especially from blue-chip regions like Tuscany, there are still many under-appreciated, under-valued producers lurking around out there.
Badia di Morrona is among the oldest and most respected producers in the region, located in the centre of the Colline Pisane (Pisan Hills). Their origins go all the way back to the year 1000 A.D. when the Benedictine monastery was founded. They craft extraordinarily traditional, long-lived wines that are admired by all. When it comes to sheer value-to-quality nothing competes with their "I Sodi del Paretaio". You can literally taste the Tuscan hills in this wine. Those who have seen Chianti firsthand know what an incredible place it is!
​We only get to feature the Taneto a few of times a year, as every time we feature this wine, it sells out along with our next order, and sometimes the order after that. When wine is this good, and the price is right, our members tend to get a little aggressive with their purchasing. Badia di Morrona's Taneto is just one of those wines that people love.
TANETO IGT TOSCANA 2019 BY BADIA DI MORRONA: CHARACTERISTICS
BODY / STYLE / OAK / Full, Medium-bodied / Warm and spicy, earthy, floral, fruity / Oaked
SWEETNESS / Extra Dry
CELLARING / Drink now or cellar
FOOD PAIRING / Breads, Cured Meat, Hard Cheese, Red Meat, Roasted Vegetables
TASTING NOTE / Tuscan terroir is suitable for many different grape varieties, but several give particularly expressive results in certain micro-zones. This is the case with Syrah in the vineyards at Badia di Morrona, which, together with Merlot and the typically territorial personality of Sangiovese, gives an original and complex wine Intense in colour with delicate aromas of cinnamon, chocolate, and black pepper. Smooth and supple on the palate with a velvety texture. The finish and aftertaste of the wine are pleasurably long and full. Ideal with pasta and rice dishes and with grilled meat.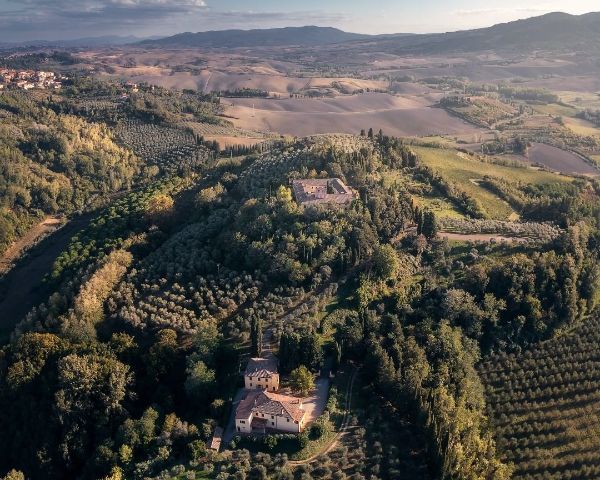 WINEONLINE.CA
Since May 2004, WineOnline.ca has been dedicated to making quality wines more accessible to wine lovers. We take great pride in the quality of our products and services, and ultimately, satisfying our customers at every available opportunity.
We are proud to provide the best wines from the world's greatest producers and wine regions at the best value.